Day 3:: Max- denim cowgirl skirt
By Max California - December 03, 2009
Tonight we're going to see Where The Wild Things Are. I am SO EXCITED like you wouldn't believe. Today it came out in Australia, and I pre-booked our tickets last night to make sure we wouldn't miss out. Tonight will be the first time I've been to the movies in a year, the first time with a little pumpkin in tow!

Anyway, onto the Good Stuff!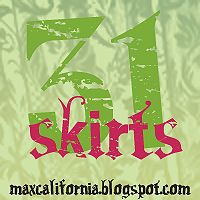 I called this skirt Max, because that's the name of the little boy character in the book/movie. And because it's the name of someone else VERY awesome. Hmmm.....


This one is a reconstruction. I kept this denim skirt of my sister's for so long. Seriously I think she gave it to me when she was 17... so like, 6 years ago. But, well, I'm a hoarder, and I had to keep it for some reason. I think it's the denim frills.



Long, and blah.

And after I got scissors to it ((click the pics to make them bigger!))::


Short + cute as sin!

I cut the skirt about 1cm above the ruffles, and at the bottom of the fly ((yep, I made sure to measure first!)), then I cut up this old vintage nightgown I NEVER wore, but the fabric is sooo soft, to be the same length as the ruffled section. I stitched on mass amounts of lace to the hem of the underskirt, then joined the underskirt + the ruffled denim to the bottom of the original skirt.

Voila! I do like it. It reminds me of a cowgirl skirt, so I donned my cowgirl boots! This outfit makes me feel like a little kid, so it's fitting that I'm wearing it tonight I think.



And look, vinnie got a little Max hood! And a crown! The hood is made from fleece and lined with an old white t-shirt of Tim's ((that I DIDN'T ask for permission to cut up...)). It does up under his chin with a bit of velcro, and you can't see in these photo, but I'll get some better ones tonight, but instead of adding whiskers made from wire or fishing line, I thought it'd be safer to, using black thread, just stitch them on.



His little crown is just made from felt. It's so cute. It reminds me of Jughead Jones. Actually, now that I've mentioned it, I think I'll make him an actual Jughead Jones Crown!

I'll upload some pics later of Vinnie's little hood + crown I made! All I have are these facebook pics I took with my iPhone.


Hehehe, little sweetheart.

This skirt is probably the most comfortable thing I've worn in a while! Have a good one ya'll, I'm leaving in 20 MINUTES!