Day 7:: "Barbie" t-shirt surgery skirt
By Max California - December 07, 2009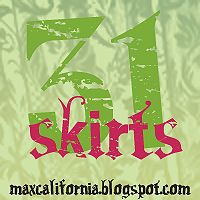 Good morning! I'm on time today! Today's skirt is inspired by the iconic barbie doll!


I bought this Barbie shirt from eBay for afew dollars. It was sized XS, and was destined to be cut up. It sat on my pile for a few months, until this skrit challenge came up, and then I knew what to do! I combined it with a long tank top I'd bought from Supre that was trerribly 90s :)



Voila, lots of lace, pink hearts and barbie! ((Click th pics to see them bigger))




Also, i'm sorry about the hideous singlet. It's the only white tee I have at the moment. Perhaps I should make one today.



I added white lace around the heart ((which is interfaced and lined with the same pink floral fabric as day 4's skirt)). I also added a little pink satin ribbon bow and a purple + pink fabric-covered button I scored from Tim's mother's button jar!

I need to get to Toowoomba on a weekday and totally trawl the opshops for more buttons and zippers. AND FABRIC ((i don't think I could ever get sick of fabric)). I came home yesterday with a big bag of fabric my mum had hidden from me, then gave in + fed my addiction. Very cool stuff there!