Monday, 6 July 2009
Oh I forgot to let you know.
I'm now a pinkhead!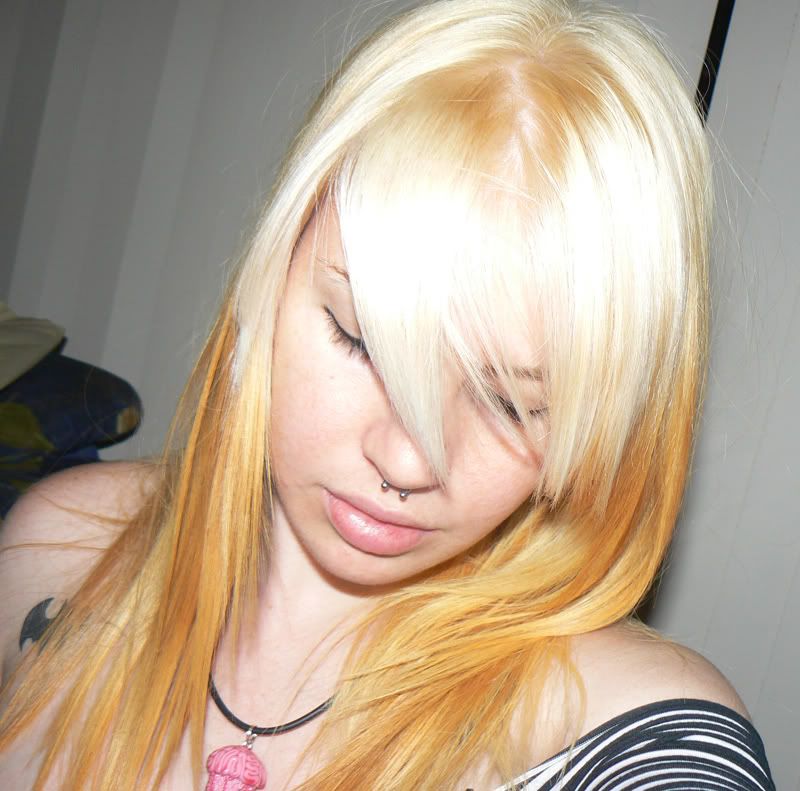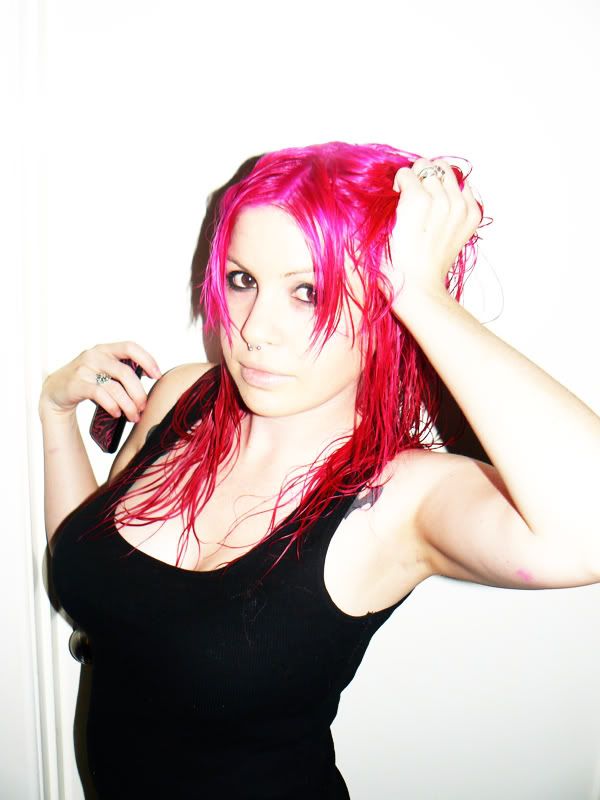 So after having Vinnie I discovered that 50% of what I havefor him just is completely unecessary. I thought I'd post some pics of how his changing table is set up.
We live in a small small apartment, and all my sewing stuff takes up the second bedroom. His cot is in our room ((Which I love)) and his change table + cupboard are out in the main dining/lounge area.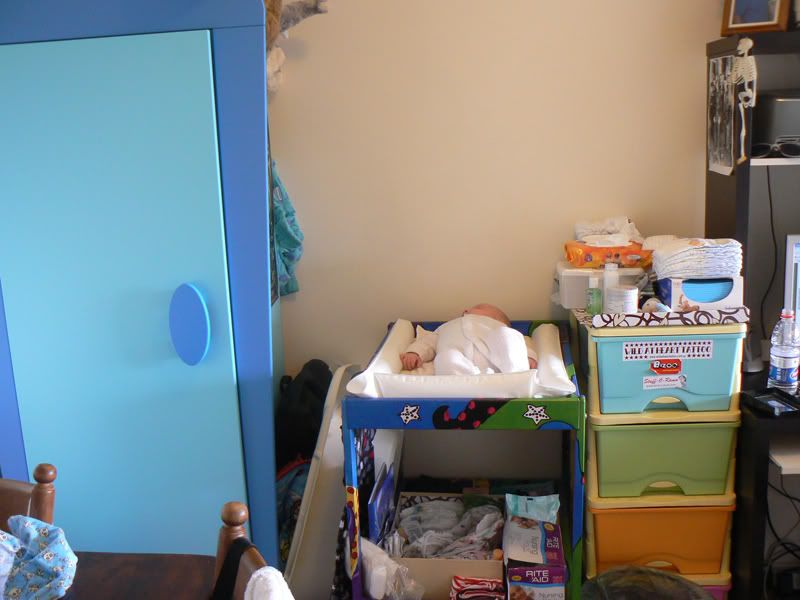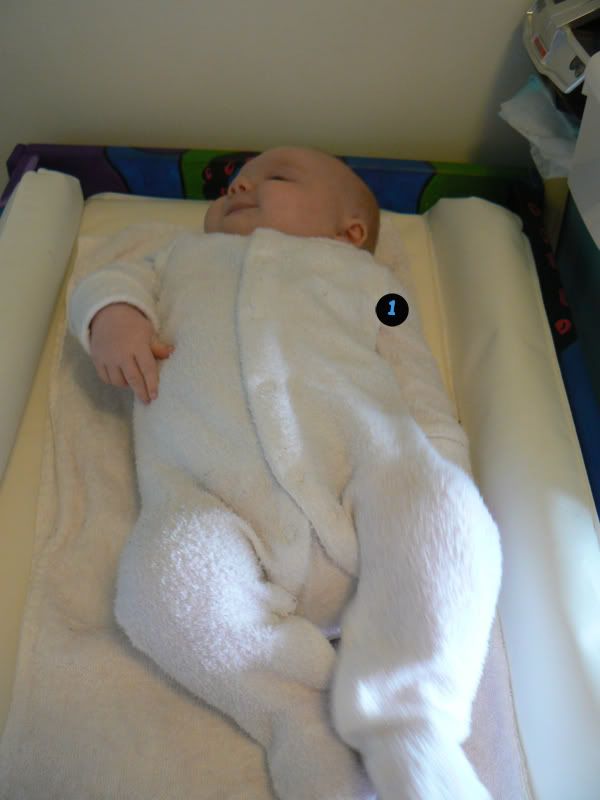 1.Vincent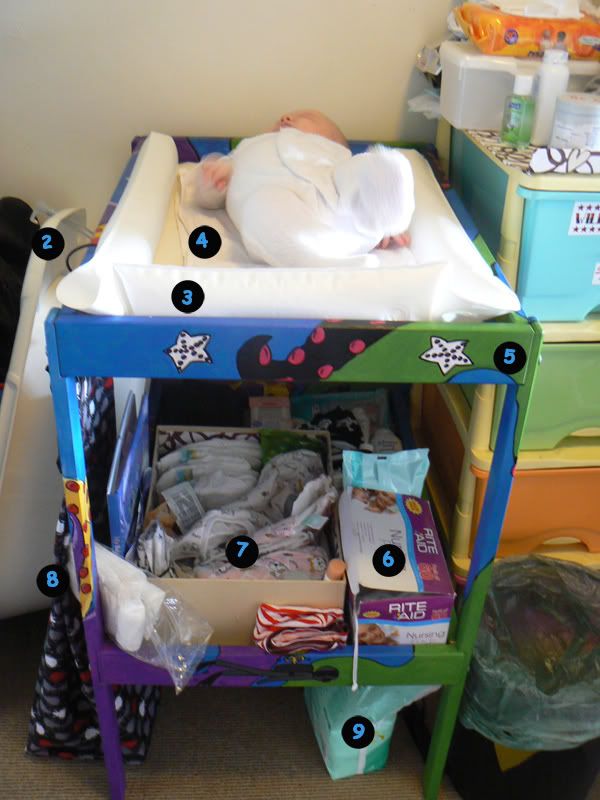 2. Baby Bath
We bought this for $5 at a Kid's market and have never used it. We only have a shower in our bathroom, and it's just easier for him to have showers with either Tim or I. I can sit in the bottom of the shower cross-legged and have him propped up between my legs + lather him up, shampoo his baby hair etc. I'm not sure if we will end up using it ever. The house we're moving to has a bath already in it.

We'll see

3. Change Mat
We got this with the change table. You can buy them from ikea. It's inflatable + so freaking comfortable looking! We've spun the end around so the padded end is at the bottom because he kicks ALOT and I didn't want him kicking the hard wood.

4. Cloth Nappy
I put this down after we realised how much little boys turn into fire hydrants when you change them. Vinnie would pee, and his urine would just run everywhere across the mat, saturating what he was wearing. With the cloth nappy down, his pee just soaks into the cloth straight awawy + I only have to wash a nappy instead of having to put him in a completely new outfit.

This is also good when I give him Super Fun Happy Naked Kick Time. Then he can kick around with his pants off and not soak himself at the same time.

5. Changetable
I got this for $25 off eBay, but you can buy these from Ikea also. I painted mine with octopii + starfish.

6. Nursing Pads
These go without saying. I bought a box of disposables, but it's just as handy to have reusable cloth ones. These are REALLY necessary, at least for me. My milk shoots out like little water cannons, and they soak through my bras + clothes like anything. It's really easy to make your own nursing pads. I'm going to make a video tutorial for them.

7. Box of assorted stuff
This originally was full of disposables + modern cloth diapers. Well after my failed fiasco with MCD and my decision that cloth is just NOT FOR ME ((another failed fantasy of mine about having a baby)) it's not full of random stuff. Lot's of littl eplastic pants that are too small for Vincent. I need to sort through it.

8. Nappy Stacker
This was cool to stack all the cloth nappies in before we used them. Now we use them so often they are always either in the dirty clothes pile or drying on the clothes rack, so this stacker is empty. I'm going to put it on eBay I think. I got it at the same time as the change table from the same lady, and it was pink with a little mouse on it. So I recovered it in black with bugs all over it :D

9. Bulk Baby Wipes
All our nappy boxes + baby wipes packs go under here. We've been buying in bigboxes from Big W, but I found this place that sells + delivers nappies + wipes + tp in bulk. We'll be doing this.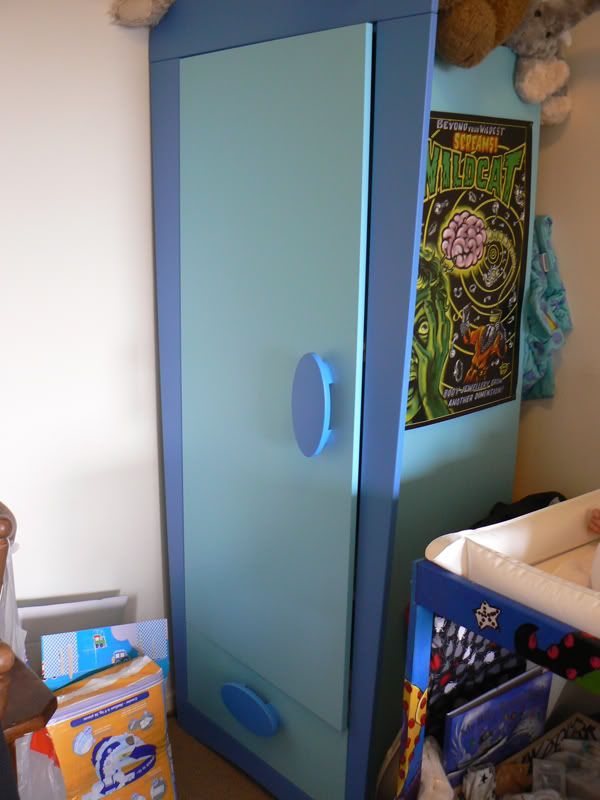 This is Vinnie's cupboard. Also from Ikea, I've had my eye on it for years + years before I even thought about having a kid. I wanted it for myself. There's a whole bedroom set and when we move into the house I'm going to get it. It reminds me of Dr. Seuss. It also comes in pink.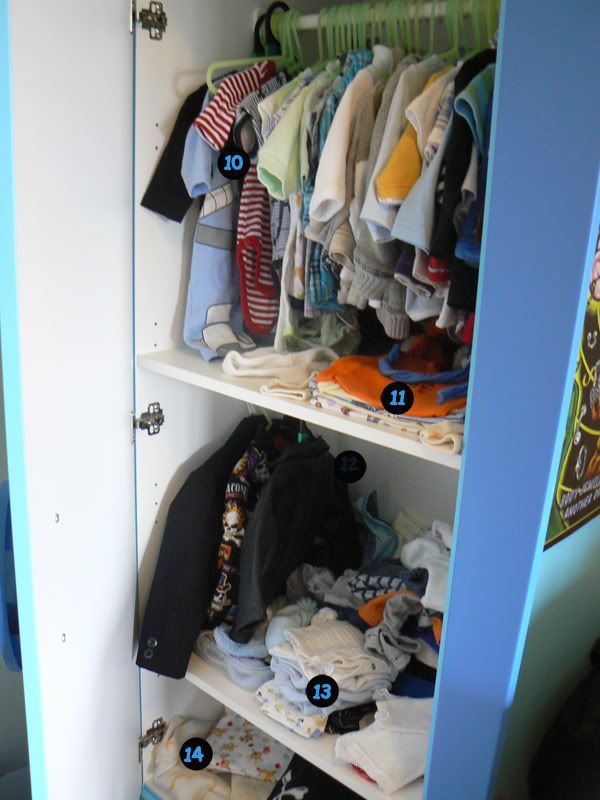 10. Winter Onesies
It's freezing here, so all Vinnie's long onesies are at this end. The other end has all his little shirts. Yes there is some UGLY stuff in there, but there will be NO PHOTOGRAPHIC EVIDENCE he ever wore it. It's convenient to have lots of clothes when they are tiny + new, because you have no idea what your doing, and you'll soon develope favourites over what styles of clothes ((an dhowthe press-studs do up etc)) you prefer. Me + Tim are massive fans of Bonds Wondersuits + their generic rip-offs. All other onesies seem to have weird press-stud placement. We found some cheap wondersuits at Big W in black, hot purple + green.

11. Summer/Shortie Onesies
These are his onesies with no legs + short sleeves. He hasn't been in a pair of these for a few weeks because it's so cold. Sometimes I'll pair one of these with a pair of his little pants, but the bonds wondersuits are just so much easier for him to live in :D Plus he looks SO cute in them.

12. Cool Jackets
I don't know why the number is a weird colour in this one? Oh well. These are Vinnie's cool jackets. He has a leather motorcycle jacket, a harley davidson bomber jacket + a misfits suit jacket. The last two are way to big for him, but that's good, we can pace his awesome jackets-ness

13. Singlets
We still have the ones he had when he was new, the bonds ones stretch really well. We have about 30 singlets, and they're very convenient to have so many in larger sizes! Beside that is all his little socks + bootees. Never thought Vinnie would wear Bootees, but when I call them slippers it seems better + he DOES look cute in them ((I never wanted to dress my kid in traditional cute knitted crap, but you DO CHANGE))

14. Blankies + Wraps
In the beginning, you can't have too many wraps. Like the onesies, you'll soon develope your favourites! Blankies too. He has some cool skull + crossobones ones, but some mellow yellow ones with stars on them, just for his grandparents to keep them happy. Compromise doesn't seem like SUCH A BIG DEAL now, not after they have helped me so much. If they are happier holding Vinnie in a yellow blanket than one with skulls on it, fine, it's just a freaking blanket.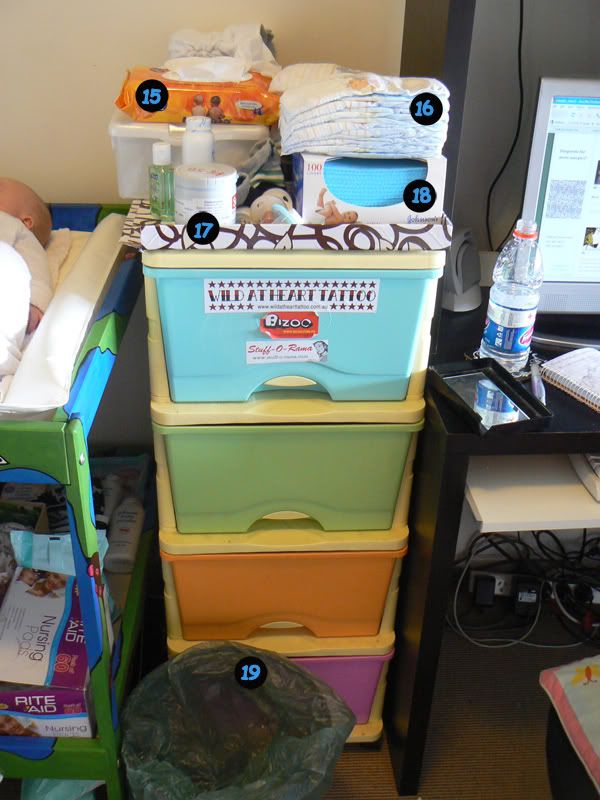 Tim bought me this chest of drawers a few years ago from a cheap two dollar store for all my sewing stuff. It doesn't hold much at the moment, but it's a good height to place things ontop of to keep within easy reach.

15. Baby Wipes
Yeh you can never have too many of these. When people ask if we need anything I always ask for baby wipes + nappies. I sew for that stuff now, lol, not money. The BEST brand we use is Huggies. It's strong + works. Johnson's + Johnson's isn't that great at all. you kinda have to pick each little piece up, whereas with huggies it just wipes it all off. We've been using Mamia lately, which is the Aldi brand, and they work REALLY well too. Aldi has a bunch of cool baby stuff for very cheap ((and it's not crap cheap, it's quality cheap)).

16. Nappies
So when I was pregnant, I had this wonderful fairytale idea that I would use cloth nappies.

HA! No way

It might be the fact that we have a communal laundry in these apartments - and having the correct change for them is difficult, and it could also be that disposables are just so much easier! Especially witha newborn, you're constantly changing nappies, hoping that maybe a fresh nappy will calm him down. Experts say that newborns go through 60nappies a week. Seriously? I think we went through closer to 100. I know buying disposables is bad for the environment + more expensive, but there is nothing else that Vinnie needs that we needed to spend money on, and to make my life easier, I just do it!

I experimented with cloth nappies last week, when my life felt like it wasn't so difficult + I sorta knew what I was doing.

DISASTER!

I went through 4 cloth nappies in an hour, and they were just wet ones! He was absolutelt satched. Disposables draw the moisture away from Vincent's bits, and I think that the fact Vinnie hasn't had nappy rash yet is because of this.

The bestbrands we've used are Huggies + Mamia. BabyLove was also really good. The woolworths Select brand were TERRIBLE! They didn't absorb fast enough + the pee just fell out of his legs.


17. SUDOCREM
I LOVE this stuff. We got sample jars in our Bounty booty bags, and Tim's mum bought us this massive jar. At the first sign of redness, we slather this all over the kid. It's zinc oxide, and sort of waterproofs his butt + penis + now he's bigger, his thigh creases.

Sorbolene cream works pretty good as nappy cream, but fork out the extra money for Sudocream to save yourself any heartbreak. We've had this massive jar since Vincenzo was born + we've used up like 1/8th of it?

Go get some.

18. Nappy Liners
good for cloth nappies, they kinda contain the poo + you can through the poo + liner away, making it asier to wash the nappy. They're sort of like Chux wipes. We havnt used these at all. Mum uses them to cover Vinni'es penis when she changes him to prevent getting them both wet when he pees.

19. Bin!
we're going to invest in one of those nappy wrapper bins, see how that goes. This gets stinky after a few changes!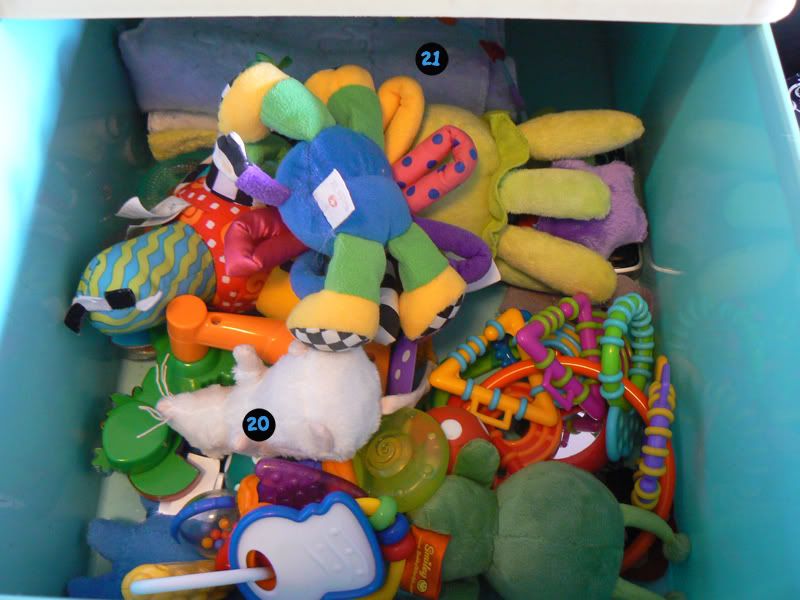 The top drawer has all his toys in it. He hasn't needed ANYTHING from in here at all yet. Sometimes we pull out the rattle to distract him, but he doesn't care about them yet :) Most of the toys were gifts. Some we got from a kid's market.

20. Rat Toy
I bought this because it looked like my rat Alice ((who died last year)). From Ikea for $2.

21. Special Burping Cloths
Havn't even used these once. I use small face washers when we feed, to soak up my crazy milk supply when he can't swallow it all and to mop up his face when he's done. He doesn't vomit much at all, not enough to need one of these everytime I burp him.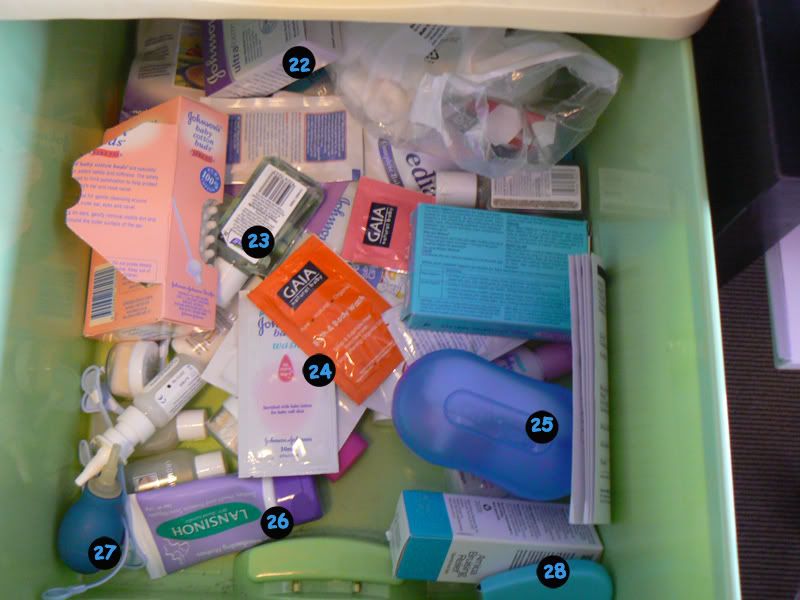 Second draw has all his bathroom supplies ;) Shampoos + body washes. Mostly samples! We use Johnson + Johnson's baby shampoo in the shower, and the soap as well. The shampoo makes his hair smell so good :)

22. J+J Nursing Pads
We got these samples at the Baby Expo. They are prolly pretty expensive, but they are the coolest pads I've seen! So soft + have little indents for your nipples. I like them, but not enough I would buy them over other brands.

23. Antibacterial Hand Sanitiser
This is super duper convenient for nappy changing times! Squirt some on before + after changing and you're back to whatever you were doing before the bum explosion. We have quite a few bottles of this, and I have on in the baby bag as well. We got them on special.

24. Baby care Samples
before Vincent was born, i emailed every baby-care product company I could find + asked for samples. I got them too :D Do it! It's worth your time and we havn't even made a dint in all the baby lotion, wash, wipes, nappies, sorbolene cream + soap we got. Try Johnson + johnsons, Huggies, Gaia natural baby, milton, brauer, or google baby care products for more.

25. Ear Thermometer
We got this at our baby shower from Tim's mum. It's VERY HANDY. Just point + press a button + you get the temperature of your baby. Useful when you're freaking out and want to know if he's got a fever.

26. Lansinoh
Omg I don't think I would still be breastfeedingif it wasn't for this stuff! After I got home from the hospital, that weekend my nipples were cracked + feeding was excruciating. Tim's mother bought me this little tube, and I've only needed to use it a few times. It's pure lanolin, and you can smear if over your nipples, and Vincent coudl feed straight after, no need to wash it off. It soothed my nipples instantly + healed them almost just as fast. GET SOME before you hurt too badly. Cracked nipples = NOT FUN

((you know i bet you could email them + get a free sample..))

27. Nose squishee goober sucker
I have no idea what it is really called, but you squeeze it, put it in Vincent's nostril, then let go. The boogers get sucked into it. Lots of fun + handy because Vinnie had a terrible cold when he was about 3weeks.

28. Baby Nail Clippers
good but not necessary. you can bite off his nails because they are pretty soft. I did use the clippers, but accidentally clipped his little fingertip, so I've not used them since :s



Well that's it. Hope you found it useful/interesting! I'm going to do one for my baby bag next :)