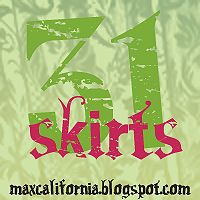 Are you as excited as I am?
So far I have 10 skirts ready, with the 11th almost finished. I've changed alot of my designs already, and am working my way rapidly through my box of clothes and ugly fabrics I had put aside to reconstruct!
It's been really hard not to take photos and show you guys already. And now I have to try and decide which skirt to wear when! I want to wear them all right now! ((Actually, On the 31st I should take a photo of me wearing them all.. lol.))
Anyway, I'm trying to plan it all out now, which one when, because I don't want to be stuck wearing a casual skirt on a day I should be dressing up! And I have one skirt that looks a bit christmassy, and because I do not celebrate christmas - I don't want to accidentally wear it later in the month!
Anyway, tomorrow I'll put on my first skirt, take some photos and show you!
I'm seriously considering writing tutorials for all the skirts and putting them up later ((like next year I guess!)) would you guys be interested?