Grease Monkey
By Max California - April 06, 2011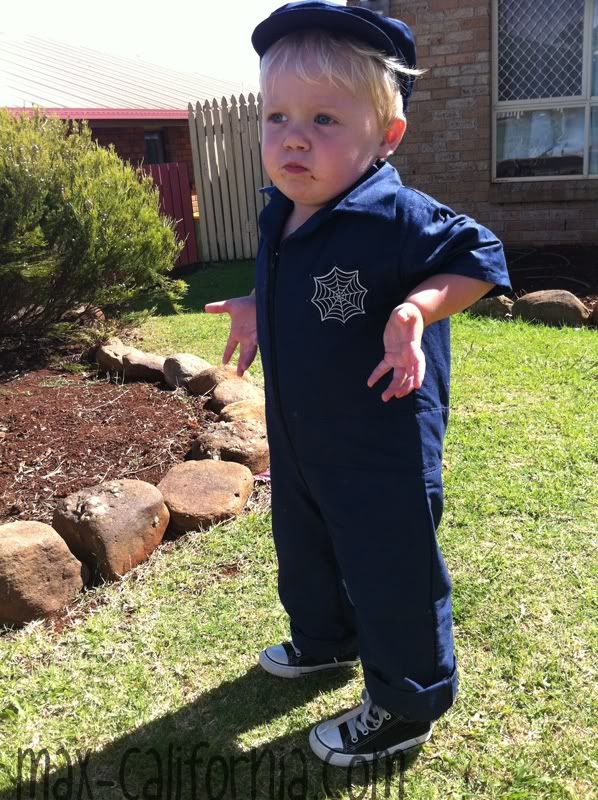 I ain't even mad, bro!
I started this a month or so back, and then my sewing machine literally fell apart stitching it. I almost died since this was going to be my last project before I had to do my harley Quinn costume and also my friend's wedding dress and our bridesmaid dresses. I
FLIPPED
. Well. Problem averted. I'm going to buy a new machine since it will be only $30 cheaper to get my old one fixed. HAR HAR NO WAY. So I've been using my mum's dreamboat Janome and I am so keen for one. I love Janomes. I could change my name to Janome California if I could. Anyway, enough drivel, ONTO THE MECHANIC COVERALL!
I'm totally drawing up a pattern for this, going to scan it in sometime this week for you to print out and make! YEY YOU GUYS YEY! It will fit up to a tall 2 year old. A very tall skinny 2 year old since my kid is a lean, green, nerdy string bean [well he's on the way anyway!]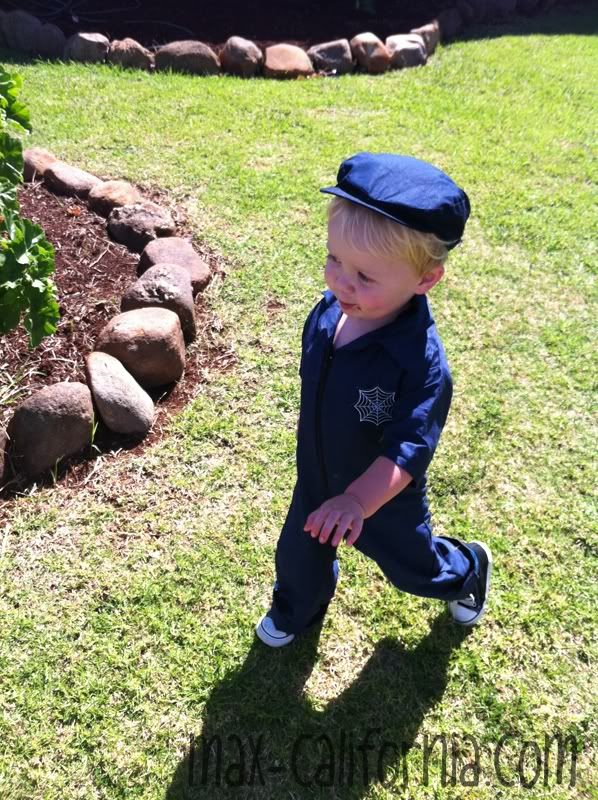 Got his swagger on
I pieced this together using pants patterns and a collared shirt pattern I've made previously. It has a back yoke and a zipper up the front for easy access! The legs are quite long because I wanted to be able to have turn up cuffs. Aren't they adorbs!
There is a wide drop-waist band around the middle, which is perfect for lengthening and shortening when you are cutting out the pieces :)
tra-la-la
I know I've tried to keep the Little Monster's name on the down-low on the blog recently, but you seriously cannot miss that back-patch there can you. I bought it when he was born since it's the name of a motorbike [my parents would have called me
Harley Vincent
if I was a boy. Yeh, my ma + pa like bikes] and you can buy loads of merch with The Vincent on it. Hurray!
On the front is a patch of a spiderweb since I sorted through all my patches and it was the only one that seemed to go well.
I may be addicted to taking 'strutting' photos of him.
Phew! I have literally been on this blog all damn day writing up a tutorial for Batman Week! Resizing pics with photoshop going skitz at me and ye gods! Oh well. It's done, it's queued I even wrote up pdf to print out of the tutorial and tomorrow I'm even going to make a pattern for part of the tute and attach that too :) Spoilt ya'll shall be!