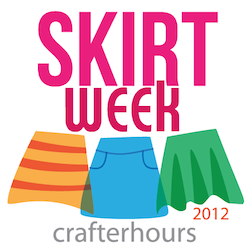 Oh look here's another sewalong I'm going to join! I find these sorts of things always get me inspired to sew, and encourage me to do it when I don't feel like it. It's always great to connect with people globally and seeing what they come up with is so inspiring! Also I have a hole in me left from
Elsie Marley's Kids Clothing Week Challenge
!
Yes my sewing machines are still out of action, but heck if I have to handsew something I will! Also I realise it's Wednesday night, but I've already entered a few things I made earlier this year and late last year, and I will try to make something tomorrow or Friday and enter that too.
All the details are
here
!
Here's some tutorials I've written for skirts in the past that might get you inspired!
Clockwise from Top Left:
Garter Skirt Tutorial
,
Denim Jeans to Mini Tutorial
,
Easy Ruffle Mini Skirt Tutorial
,
Fold-Over Band Mini Tutorial
and in the center is the
Waisted Layer Skirt Tutorial
.
Interesting fact, I was pregnant with Vincent in two of these and pregnant with Edison in one. Interesting double feature fact, it's the photos I'm skinniest in! Yeh 2010 was my tubby year.