I will regularly be updating this page as I write tutorials with lttle tips, tricks + how-tos on some fo the more difficult techniques you might need. I'm also going to put things in here that I take for granted, but aren't so obvious for beginner sewers!
This page ain't pretty yet, but it will be!
Basics
Techniques
Short-Cuts
coming soon!
Tips
Supplies
Basics
There's a Right Side + a Wrong Side?
That's right. With most fabrics, there is an obvious right and wrong side. The right side is the side you will see, the side with the pattern on it. The wrong side is the back of the fabric, and what is inside. Most sewing instructions call for you to sew the 'right sides together' which means the seams and all the ugly stuff will be on the inside, and when you turn it 'right sides out' it's all neat and pretty!
Top-Stitching
Top Stitching is where you stitch close to the seam on the outside of the item. I usually run the edge of my presser foot along the finished edge for my top-stitching. This makes the seam sit nicer and look better.
Techniques
Clipping Curves + Mitreing Corners
Both these techniques help your seams lay flatter. If you have a seam like a bust-piece that is a curved line ((or even a seam that is way more curved than that)), you can clip your curves so that when you turn the fabric out there isn't so much bulk. Making small snips in the fabric up to BUT NO INTO the seams, helps the fabric spread out.
Mitreing corners is useful for collars and other seams where you have a tip or a corner. With your small scissors, cut the seam allowance about a 45 degree angle to the seam up to BUT NOT INTO the seam. This reduces bulk and helps the tip become more pointy when you turn it right side out.
((pictures soon))
Tips
Applique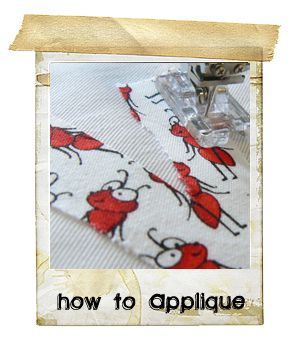 Supplies
Where can I get tags?
You can get generic tags from most fabric stores. They say things like "For a Special Little Boy" or "For a Special Little Girl" and there's even ones I remember my mum using say, "Handmade with Love from Mum". These are super cute! You can also get some made up for you with your child's name in it, or whatever you want! You can get some great customisable tags made for you pretty inexpensively on Etsy.com. Just search for tags in the supplies drop-down bar and the world is your oyster!